a few words about us
Imagine Injection's Mission.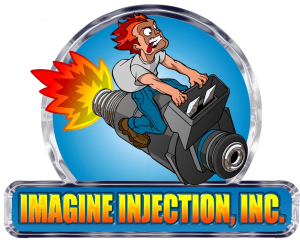 As a result of a need for a high tech EFI system with the look of Weber Carburetors, Imagine Injection has made a commitment to the consumer market to try to Recapture, as well as revive , a waning market of the performance induction industry.
Imagine Injections, unique product will give the consumer the look of a vintage car and the drivability of a late model fuel injected vehicle.
Imagine Injection is committed to assisting the consumer in realizing the increased horsepower and torque with the high-tech influence of its injection system.
Imagine Injection, Inc. - Company Profile.
As of 2013, Imagine Injection Inc. has sold over 260 units and hundreds of conversions of 4 barrel manifolds, and Hilborn, Enderle, Crower, etc...
Bob Ream Sr., Owner and President of Imagine Injection, is well known in the automotive and racing industry.  He gained knowledge of electronic injection systems through his college education in Electronic Technology and by many experiments, of which included a 1979 2WD Blazer.  Bob took the 1979 Blazer and applied everything from TBI to multi port, mass air flow for speed density.  With a large amount of oval racing experience as a driver and engineer, Bob kept abreast of many induction systems.  In the early 1980's he had a mail order business that focused on converting carburetors to methanol.
In 2009, Bob and Bev completed their 1967 Dodge Dart with 6.1 Hemi 6 speed Viper Transmission, 10" altered wheel base with injection and stacks through the hood.  In 2011, Bob and Bev completed their 1964 Ford Falcon.  It is altered front and back and powered by an all aluminum 427W with Imagine Injection Stacks through the hood.
Car Magazines Take Note.
The Imagine Injection unit has appeared in various magazines such as Street Rodder, Mopar Collector Guide and numerous covers of the Good Guy's Magazines.
Bob was born in Minneapolis, Minnesota in 1946, and moved as a child to Phoenix in 1959.  Bob Ream Sr....